Saturday, Sept 1, 2018
Enter 3 races in one day?
Sound awesome?
Then you got issues.
Welcome home my friend.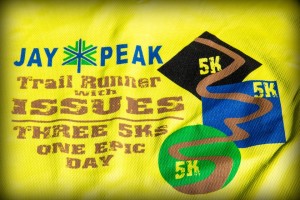 We personally think that running is the best way to deal with life but understand that not everyone can run 50k.  Thus we created our "Trail Runners with Issues".
Here's how it works:
1) Sign up……

 
$30. until Jan 30, 2018
$35. Jan 31- May 30 2018
$50. May 31- Aug 1
$60. Aug 2- until full or Aug 25
Add a Long Sleeve Shirt = $15.
Add a POM POM hat = $15
You can add the above bling during registration
2) Show up (after picking up your bib ) before 8:15 am at the pool pavilion @ Hotel Jay
3) Run your first 5k starting at 8:30
4) Run your second 5k at 9:30
5) Run your third 5k at 10:30
6) Pick up your Trail Runner's with Issues award 
7) Brag
Can you do this?  Yes.  Speed is not the key here….just complete all three races to get your bragging bling!
Total mileage is roughly 9.3 miles.  Any ability can complete this race series.  We start you off with the hardest race first, just to get it out of the way.  The other races will seem easy thereafter!
Each race will have one or 2 aide stations.
Top  combined times (technically the lowest combined time) M/F will receive 2 ski passes and 2 water park passes!  
If you do not finish a race before the next one starts, that is ok.  Just check in with the timer and get on the the next one.  The courses do close at noon though. (honestly, this has never happened….and some people walk all 3 races).
Extra socks &/ or shoes may be a smart idea.  The trails may be wet and no one likes running in wet socks.
This is a great way for those who want to attempt a longer distance than 5k, but are not quite sure they are ready.  By having the ability to rest in between races, you can ensure your success in completing all three! So what are you waiting for?  Register Now and be a part of an elite club.
Based on feedback from this and dozens of other races we manage, we are offering this event at a below average price with the option to buy a tshirt or other schwag if you decide you like/need them. You will be given the option to add the extra stuff on your registration.  We will have items for sale at the race, but will be slightly higher in price and 1st come, 1st served for sizes.
Can you add races on race weekend?  Yes.  In other words, if you sign up for one 5k now, but catch the vibe when you arrive and want to sign up for 2 more…no problem!  However, keep in mind, you save $$ by pre registering for all three.  WE ALSO CANNOT GUARANTEE AN "ISSUES" finishers bling if you wait.
Look, you drove your butt all the way here or are staying here over night anyway……why not run all 3?