Saturday, August 31 @ 11:30 am.
This is the best Kid's Trail Race in the US.
Devised by parents who both run & direct races all over the country, we saw dozens of kids races that were either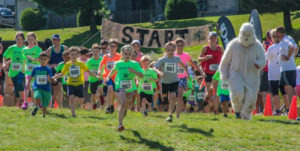 1) afterthoughts & were poorly organized
OR
2) unfair for the younger kids who were competitive, but simply had shorter legs.  
So, there had to be a way to fix this.  And we believe we have the answer.
HOW  IT WORKS
Kids register (well the parents register them) online or at the event.  Online registration is recommended.  If the weather is good, we get A LOT of race weekend registrations and cannot guarantee we will have a shirt….plus it is WAY cheaper if you sign up your kids by Jan 30th (ONLY $10!!) REGISTER ONLINE NOW.
Pick up your bib and pre race schwag.
Go to the real start line….Kids get the same professional start line as parents do.
We take an epic picture as seen on the right.
 Kids will run a course and stop at a sticker station.  When they get to as many sticker stations as their age, they turn around. In other words a 5 year old goes to 5 stations then turns around.  The oldest kid that can participate is 11.  The longest a kid will run is 2.62 miles.  So the 5 year old may run a mile while the 11 year old runs the 2.62.  Thus making it a pretty fair race.  We have had a 4,5,7,8 & 10 year old win in the past.   All the kids get a medal and plenty of bling, including but not limited to, a backpack.  
Pertinent Details:
WHEN: Saturday, Aug 31, 2019
WHERE: Jay Hotel Pavilion; Hotel Jay
START TIME: 11:30am
Price Schedule:

$10. Until Jan 30
$15 Jan31-April14
$25. Until Aug 30 or until Full
PARENT NOTE: Please remember, this was designed by parents & trail runners.  The kids run on well marked, safe trails.  This is also THEIR race.  You are welcome to run WITH them, but let them compete.  If you want to compete, we have 6 other races for you to choose from.  If you do have any questions or concerns, please feel free to email chris & becky @ sub5@sub5racing.com  
What you get:
Optional: (must purchase separately)

Race Specific tshirt
Race Hoodie
Race POM POM hat

All can be purchased when registering online

Awards:
Race Weekend Sign up

If available.  Prices & availability will be announced as the race approaches.

Refund Policy:

Please email chris @ chris@sub5racing.com if you need a refund.  Here is what you can expect:
100% if request is received by March 1
50% if request if received by May 1
10% if request is received by Aug 1
No refunds thereafter

This applies to registrants, extra meal/beer tickets  & merchandise
Amounts refunded do NOT include fees charged by UltraSignup.  You will have contact UltraSignup for those.

PLEASE keep in mind, that we are purchasing our supplies based on registrants as the year goes on.  So us keeping your money is not being greedy, but simply covering our expenses.  We also commit to donating to certain charities & volunteer groups.  When we refund $$, that is money promised that we cannot give.   HOWEVER, we get that life happens so we hope that you find our refund policy fair & equitable.

VOLUNTEERS

Want to volunteer or have family / friends that want to volunteer?
We offer either water park passes or free race registrations
Please CLICK HERE to learn more.

Need MORE info? Go to our FAQ page and see if we answer your question there.