Saturday, Sept 1  |  11:30 am

This is not just a thrown together quick fun run, but an all out REAL kids trail race for all ages (up to age  11).
This is for kids of any age up to age 11.  Kids are welcome to run the regular 5ks, but this one was designed specifically for them!
What your awesome trail runner gets: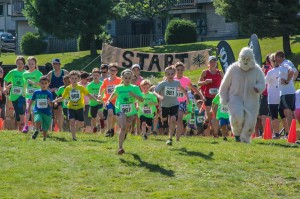 medal (better than last year's)
stickers (lots of them)
muddy shoes
chance to beat Eddy the Yeti
self confidence
hooked on trail running
more blingy bling than they can carry
Please NOTE: we decided, based on feedback, to offer a very low priced race with the option to buy a shirt.  You may check out our shirts and purchase during registration.
How the race works:
Tired of the last minute set of cones put in a circle where a 12 year old tears through and leaves your kid who gave it 100% feeling like they had no chance?
Ya, with 3 kids, I felt like that too.
So this is where our trail race is different:
We want to make sure this feels as much like a real trail race as possible.  That includes a real start line horn, finish line tape, water stop, actual trails and anything else we can think of.
Each age will run a different distance.  Of course, if your 5 year old wants to complete the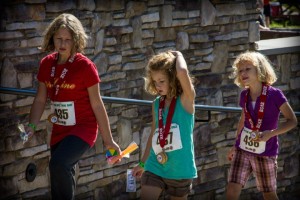 same course as the 11 year olds….who are we to stop them!  The course is technically the same, but each age turns around at their appropriate age group sticker bucket.
In other words, if your trail runner is 5, then they will go to 5 sticker stations and collect their stickers as proof, then turn around and head to the finish.
This way a wicked fast 10 year old still has to put in twice the effort as the 5 year old.  Again, if the 5 year old in this case wants to run the entire course….then awesome, let them!
The longest loop is roughly 2.62 miles.
$15 until May 30
$20 starting May 31 until full
You will have the option to buy a kids trail race team shirt = $10
Add a POM POM hat = $15

PARENTS!  
Please remember that this is a kids race.  If you really want to compete, we have 5 other races that you can compete in.  You are welcome to run with your kid and of course if they get hurt, we would expect you to help them (we do have a med team available), but otherwise, please just let them run their race.  Encourage them, be proud of them, and don't forget to high 5 the other runners!
PLEASE, if there are any concerns or questions whatsoever, email me @ chris@sub5racing.com.  My wife and the wives of some of my crew have all checked out the course and have approved it.  None of them would let me create something non-epic or non safe.
Again, please feel free to email me with any questions if I did not address them above.
Thank you!
-Chris Bernier
Race Director JPTRF